Smartphones have become an integral part of our lives, providing us with a range of features and functionalities that make our daily tasks easier and more enjoyable. Sony has always been at the forefront of innovation in the tech industry, and their latest offering, the Sony Xperia 1 V, is no exception. Packed with cutting-edge technology, stunning design, and a host of features, the Xperia 1 V promises to deliver the ultimate smartphone experience. In this article, we will delve into the features, specifications, and everything you need to know about the Sony Xperia 1 V.
A Marvel of Design and Durability
The Sony Xperia 1 V is a true testament to Sony's commitment to design excellence. With its sleek and elegant form factor, the Xperia 1 V is a device that exudes sophistication. The device features a glass front and back, protected by Corning Gorilla Glass Victus, which not only adds to its premium look but also provides durability. The aluminum frame further enhances its overall aesthetic appeal and provides added strength.
Measuring at 165 x 71 x 8.3 mm and weighing 187 g, the Xperia 1 V fits comfortably in the hand and is easy to carry around. It is also IP65/IP68 dust and water-resistant, making it suitable for use in various environments. Whether you're on an adventurous outdoor trip or simply going about your daily routine, the Xperia 1 V can withstand the rigors of everyday life.
Immersive Visuals with OLED Display
One of the standout features of the Sony Xperia 1 V is its stunning OLED display. The device boasts a 6.5-inch OLED panel that supports 1 billion colors, delivering visuals that are vibrant, sharp, and true to life. With a resolution of 1644 x 3840 pixels and an aspect ratio of 21:9, the Xperia 1 V offers an immersive viewing experience, whether you're watching movies, playing games, or browsing the web.
The OLED display is also HDR BT.2020 certified, which means it can reproduce a wider range of colors and a higher level of contrast, resulting in a more dynamic and lifelike visual experience. The display is protected by Corning Gorilla Glass Victus, providing added durability and peace of mind.
Powerful Performance and Speed
Under the hood, the Sony Xperia 1 V is powered by the Qualcomm SM8550-AB Snapdragon 8 Gen 2 processor, which is built on a 4nm architecture. This powerful chipset ensures smooth and snappy performance, allowing you to multitask seamlessly and run demanding applications and games without any lag or slowdown.
The Xperia 1 V is equipped with an octa-core CPU, consisting of a Cortex-X3 core clocked at 3.2 GHz, two Cortex-A715 cores clocked at 2.8 GHz, two Cortex-A710 cores clocked at 2.8 GHz, and three Cortex-A510 cores clocked at 2.0 GHz. This combination of high-performance and power-efficient cores ensures optimal performance while maximizing battery life.
The device also features the Adreno 740 GPU, which delivers exceptional graphics performance, enabling you to enjoy graphically intensive games and visually stunning content with ease. Whether you're a gaming enthusiast or a multimedia consumer, the Xperia 1 V has got you covered.
Capturing Memories in Unprecedented Detail
Sony has always been known for its prowess in camera technology, and the Xperia 1 V is no exception. The device sports a versatile triple camera setup on the rear, comprising a 48 MP wide-angle lens, a 12 MP telephoto lens, and a 12 MP ultrawide lens. This combination of lenses allows you to capture stunning photos and videos in various scenarios, from wide landscapes to up-close details.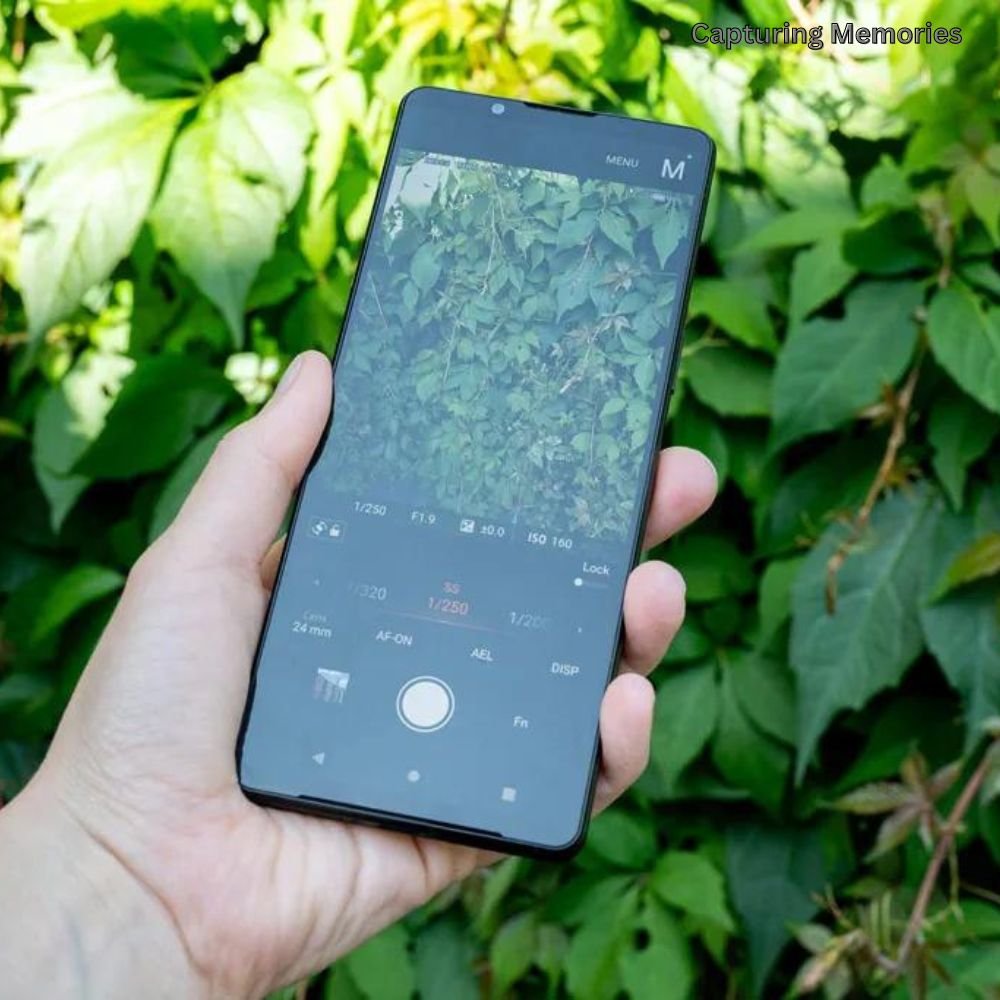 The 48 MP wide-angle lens features a large f/1.9 aperture, Dual Pixel PDAF, and optical image stabilization (OIS), ensuring sharp and blur-free images even in low-light conditions. The 12 MP telephoto lens offers 3.5x-5.2x continuous optical zoom, allowing you to get closer to your subject without compromising on image quality. The 12 MP ultrawide lens provides a wider field of view, perfect for capturing expansive landscapes or group photos.
To further enhance the camera capabilities of the Xperia 1 V, Sony has collaborated with Zeiss, a renowned optics manufacturer. The device features Zeiss optics and Zeiss T* lens coating, which minimize lens flare, ghosting, and other aberrations, resulting in images that are clear, vibrant, and true to life. Whether you're a photography enthusiast or a casual snapper, the Xperia 1 V's camera will never disappoint.
Rich Audio Experience and Dynamic Vibration System
In addition to its impressive visual capabilities, the Sony Xperia 1 V also offers a rich audio experience. The device features stereo speakers that deliver high-quality sound, allowing you to enjoy your favorite music, movies, and games with immersive audio.
The Xperia 1 V also includes a 3.5mm headphone jack, so you can connect your favorite wired headphones and enjoy high-fidelity audio. The device supports 24-bit/192kHz audio, ensuring that you can experience your music in all its glory.
One unique feature of the Xperia 1 V is its dynamic vibration system. This technology analyzes audio data and generates vibrations that synchronize with the sound, adding an extra dimension to your audio experience. Whether you're watching a movie or playing a game, the dynamic vibration system adds a tactile element, making the experience more engaging and immersive.
Seamless Connectivity and Battery Life
The Sony Xperia 1 V offers a range of connectivity options to keep you connected wherever you go. The device supports Wi-Fi 802.11 a/b/g/n/ac/6e, allowing for fast and reliable internet connections. It also supports tri-band Wi-Fi, Wi-Fi Direct, and DLNA, enabling seamless wireless connectivity and media streaming.
Bluetooth 5.3 is another feature of the Xperia 1 V, ensuring fast and stable connections with compatible devices. With Bluetooth A2DP, LE Audio, aptX HD, and aptX Adaptive support, you can enjoy high-quality audio streaming without any loss in sound quality.
The device also features NFC (Near Field Communication), which allows for convenient contactless payments and easy pairing with compatible devices. Whether you're making a payment at a store or transferring files to another smartphone, NFC makes it quick and hassle-free.
The Xperia 1 V is equipped with a 5000 mAh non-removable Li-Po battery, ensuring all-day battery life even with heavy usage. The device supports 30W wired charging, PD3.0, and PPS (Programmable Power Supply), allowing you to charge the device quickly and efficiently. With the advertised 50% charge in just 30 minutes, you can spend less time waiting for your phone to charge and more time using it.
Enhanced Security and Convenience
Security and privacy are of utmost importance in today's digital age, and the Sony Xperia 1 V takes them seriously. The device features a side-mounted fingerprint sensor, which allows for secure and convenient unlocking of the device. With the fingerprint sensor located on the side of the device, you can easily unlock it with just a touch of your finger.
In addition to the fingerprint sensor, the Xperia 1 V also includes a range of sensors, such as an accelerometer, gyro, proximity sensor, barometer, compass, and color spectrum sensor. These sensors provide additional functionality and enhance the overall user experience.
The Latest Android Experience
The Sony Xperia 1 V runs on the latest version of Android, Android 13. With its clean and intuitive interface, Android 13 offers a seamless and user-friendly experience. It comes with a range of features and improvements, including enhanced privacy settings, improved app permissions, and better battery management.
Sony has also customized the Android experience on the Xperia 1 V, adding their own unique touches and features. This ensures that you get the best of both worlds – the familiarity and reliability of Android, combined with Sony's optimizations and enhancements.
Price and Availability
The Sony Xperia 1 V is available in three stunning colors – Black, Khaki Green, and Platinum Silver. It comes in two storage variants – 256GB with 12GB of RAM and 512GB with 12GB of RAM. The device is priced at $1,074.00 for the 256GB variant and $1,160.00 for the 512GB variant.
The Xperia 1 V is available for purchase from various retailers and online platforms. You can also check with your local Sony store for availability and pricing information. With its premium design, powerful performance, and a host of features, the Sony Xperia 1 V is worth every penny.
Final Thoughts
In conclusion, the Sony Xperia 1 V is a smartphone that truly raises the bar in terms of design, performance, and features. With its stunning OLED display, powerful processor, versatile camera system, and immersive audio experience, the Xperia 1 V offers a complete package for smartphone enthusiasts and tech-savvy users.
Whether you're a multimedia consumer, a photography enthusiast, or a gaming enthusiast, the Xperia 1 V has something to offer. Its sleek design, durable build, and cutting-edge technology make it a device that stands out from the crowd.
If you're in the market for a new smartphone that combines style, performance, and innovation, look no further than the Sony Xperia 1 V. With its exceptional features and capabilities, it is sure to provide you with the ultimate smartphone experience.