The smartphone industry is constantly evolving, with manufacturers pushing the boundaries of innovation to deliver cutting-edge devices. Samsung, a leader in the market, has once again raised the bar with its latest offering, the Samsung Galaxy Z Fold5. This highly anticipated smartphone combines style, functionality, and advanced technology to redefine the way we use our mobile devices. In this article, we will explore the key features, specifications, and the overall impact of the Samsung Galaxy Z Fold5 on the smartphone gadget news landscape.
Introduction
The Samsung Galaxy Z Fold5 represents the pinnacle of Samsung's foldable technology. With its unique foldable design, this smartphone offers users a transformative experience that seamlessly transitions between a compact smartphone and a spacious tablet. The Galaxy Z Fold5 is equipped with cutting-edge hardware and software, making it a powerhouse device that caters to the needs of both productivity enthusiasts and multimedia aficionados.
Design and Display
One of the standout features of the Samsung Galaxy Z Fold5 is its innovative design. The device boasts a sleek and modern aesthetic, with a premium build quality that exudes elegance. The foldable form factor allows users to enjoy a larger display when unfolded, measuring 7.6 inches, which provides an immersive viewing experience for multimedia content and productivity tasks.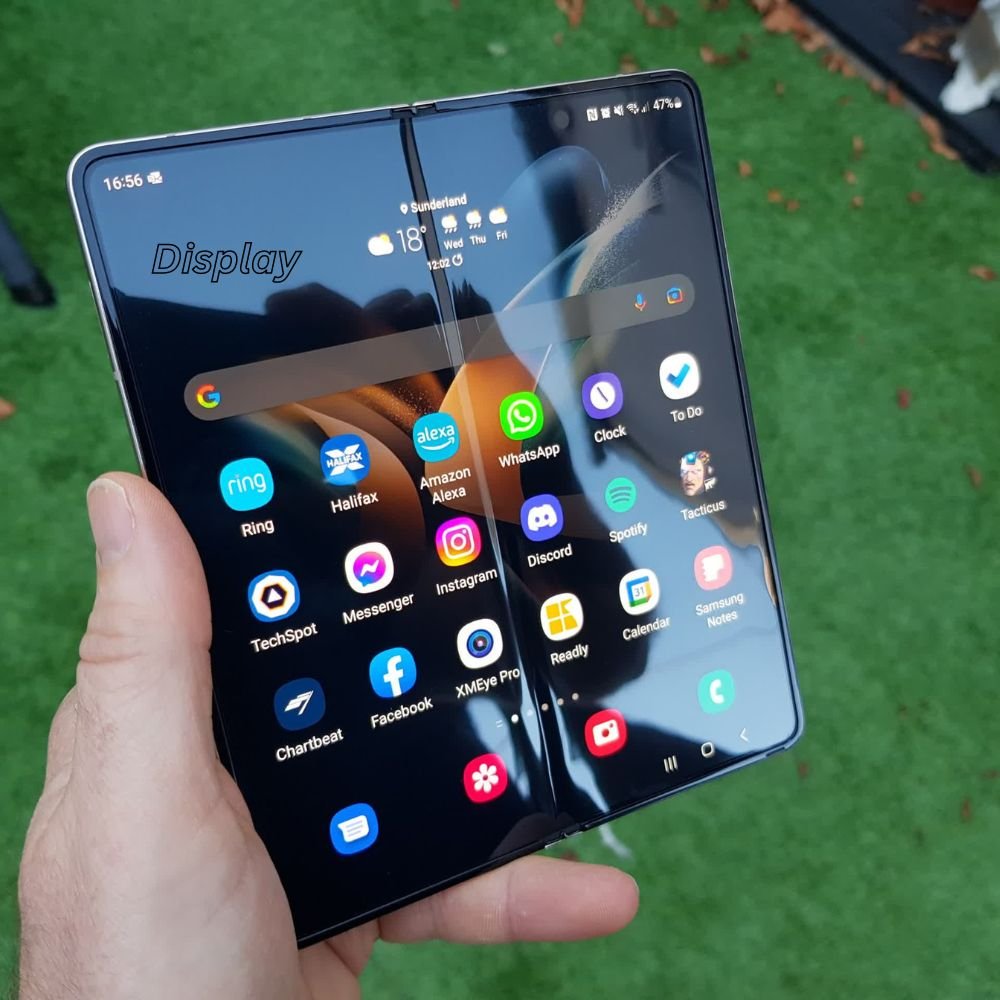 The display technology used in the Galaxy Z Fold5 is equally impressive. The device features a Foldable Dynamic AMOLED 2X panel with a 120Hz refresh rate, ensuring smooth scrolling and fluid animations. The display also supports HDR10+, delivering vibrant colors and deep blacks for an enhanced visual experience. With its nearly bezel-less design and high screen-to-body ratio, the Galaxy Z Fold5 offers an immersive display that sets new standards in the smartphone industry.
Performance and Software
Under the hood, the Samsung Galaxy Z Fold5 is powered by the Qualcomm Snapdragon 8 Gen 2 chipset, which delivers exceptional performance and efficiency. The octa-core processor, coupled with Adreno 740 GPU, ensures smooth multitasking, fast app launches, and seamless gaming experiences. The device comes with ample memory options, including 256GB, 512GB, and 1TB of internal storage, paired with 12GB of RAM, allowing users to store their files, apps, and media without any compromises.
On the software front, the Galaxy Z Fold5 runs on Android 13, overlaid with Samsung's custom One UI 5.1.1. This combination provides a user-friendly interface with a host of features and customization options. The software is optimized for the foldable form factor, allowing for seamless transitions between different modes and providing a cohesive user experience.
Camera Capabilities
The Samsung Galaxy Z Fold5 is equipped with a versatile camera setup that ensures stunning photos and videos in any situation. The main rear camera features a 50 MP sensor with a wide f/1.8 aperture, enabling excellent low-light performance and detailed shots. The telephoto lens offers 3x optical zoom, allowing users to get closer to their subjects without compromising image quality. Additionally, the ultrawide lens provides a 123-degree field of view, perfect for capturing expansive landscapes and group shots.
On the front, the Galaxy Z Fold5 features an under-display 4 MP selfie camera, ensuring a seamless and uninterrupted display when not in use. The cover display also houses a 10 MP front-facing camera, enabling high-quality selfies and video calls. Both cameras support various shooting modes, including HDR and 4K video recording, giving users the freedom to capture their memories with exceptional clarity and detail.
Connectivity and Battery Life
In terms of connectivity, the Samsung Galaxy Z Fold5 is equipped with a wide range of options to ensure seamless communication and data transfer. The device supports Wi-Fi 802.11 a/b/g/n/ac/6e, offering fast and stable internet connectivity. It also features Bluetooth 5.3 with A2DP and LE, allowing users to connect their favorite wireless accessories effortlessly.
The Galaxy Z Fold5 is powered by a 4400 mAh non-removable Li-Po battery, which provides all-day usage on a single charge. The device supports 25W wired charging, allowing users to quickly replenish their battery levels. Additionally, it supports 15W wireless charging for added convenience. The Galaxy Z Fold5 also offers reverse wireless charging at 4.5W, allowing users to charge compatible devices by simply placing them on the back of the device.
Additional Features
Samsung has packed the Galaxy Z Fold5 with a range of additional features to enhance the overall user experience. The device supports stylus input, allowing users to take notes, sketch, and navigate the interface with precision. It also features IPX8 water resistance, providing protection against accidental splashes and spills. The Galaxy Z Fold5 comes with an Armor aluminum frame that offers increased durability and drop protection, ensuring peace of mind for users.
Other notable features of the Galaxy Z Fold5 include support for Samsung DeX, which transforms the device into a desktop-like experience when connected to an external monitor, and Samsung Pay, which allows users to make secure payments using their device. Additionally, the device supports Ultra Wideband (UWB) technology, enabling precise location tracking and seamless device-to-device communication.
Pricing and Availability
The Samsung Galaxy Z Fold5 is available in a range of attractive colors, including Icy Blue, Phantom Black, Cream, Gray, and Blue. The device comes in various models, such as SM-F946B, SM-F946B/DS, SM-F946U, SM-F946U1, SM-F946N, SM-F946W, and SM-F9460, catering to different regions and network compatibility.
As for pricing, the Galaxy Z Fold5 is priced at $1,499.99 in the United States, C$2,399.99 in Canada, £1,517.40 in the United Kingdom, €1,459.00 in Europe, and ₹154,999 in India. These prices may vary depending on the selected model and region. The Galaxy Z Fold5 is available for purchase from authorized retailers and online platforms.
Reviews and Verdict
The Samsung Galaxy Z Fold5 has garnered positive reviews from both critics and users alike. The device has been praised for its innovative foldable design, powerful performance, and versatile camera capabilities. Reviewers have also highlighted the seamless software experience, extensive connectivity options, and long-lasting battery life as standout features of the device.
Overall, the Galaxy Z Fold5 has been hailed as a game-changer in the smartphone industry, setting new standards for innovation and functionality. Its unique foldable form factor and advanced features make it an attractive choice for users who demand the best of both worlds – a smartphone and a tablet – in a single device.
Conclusion
The Samsung Galaxy Z Fold5 is a testament to Samsung's commitment to pushing the boundaries of smartphone technology. With its foldable design, powerful performance, and versatile camera capabilities, the Galaxy Z Fold5 offers users a truly transformative experience. Whether you are a productivity enthusiast, a multimedia aficionado, or simply looking for the next big thing in smartphone gadget news, the Galaxy Z Fold5 is a device that deserves your attention. Embrace the future of smartphones with the Samsung Galaxy Z Fold5.
Disclaimer: The information provided in this article is based on the available specifications and features of the Samsung Galaxy Z Fold5 at the time of writing. Prices and availability may vary depending on the region and market conditions.