The Samsung Galaxy M14 is the latest addition to Samsung's impressive lineup of smartphones. Released on March 8, 2023, this device offers a range of exciting features and specifications that will surely captivate tech enthusiasts. In this article, we will delve into the details of the Samsung Galaxy M14, exploring its design, display, performance, camera capabilities, and more. So, let's dive in and discover what makes this smartphone a must-have in the ever-evolving world of mobile technology.
Design and Display
The Samsung Galaxy M14 boasts a sleek and modern design that is sure to turn heads. With dimensions of 166.8 x 77.2 x 9.4 mm and weighing just 206 g, this device is lightweight and comfortable to hold. The front of the smartphone is adorned with a stunning PLS LCD display, measuring 6.6 inches. With a resolution of 1080 x 2408 pixels and an aspect ratio of 20:9, the display offers sharp visuals and vibrant colors. The screen-to-body ratio of approximately 81.5% ensures an immersive viewing experience.
Performance and Operating System
Under the hood, the Samsung Galaxy M14 is powered by the Exynos 1330 chipset, a powerful Octa-core processor. This ensures smooth multitasking and seamless performance, whether you're browsing the web, playing games, or running multiple apps simultaneously. The device comes with 4 GB or 6 GB of RAM, providing ample memory for efficient app switching and lag-free usage. The smartphone runs on the Android 13 operating system, coupled with Samsung's intuitive One UI core 5.1, offering a user-friendly interface and a host of useful features.
Camera Capabilities
Capture every moment in stunning detail with the Samsung Galaxy M14's impressive camera system. The device features a triple rear camera setup, including a 50 MP wide lens, a 2 MP macro lens, and a 2 MP depth sensor. This versatile camera setup allows you to capture breathtaking landscapes, close-up shots, and stunning portrait photos with ease. On the front, there is a 13 MP wide camera for capturing beautiful selfies and engaging in video calls. Whether you're a photography enthusiast or simply someone who loves taking pictures, the Samsung Galaxy M14 has you covered.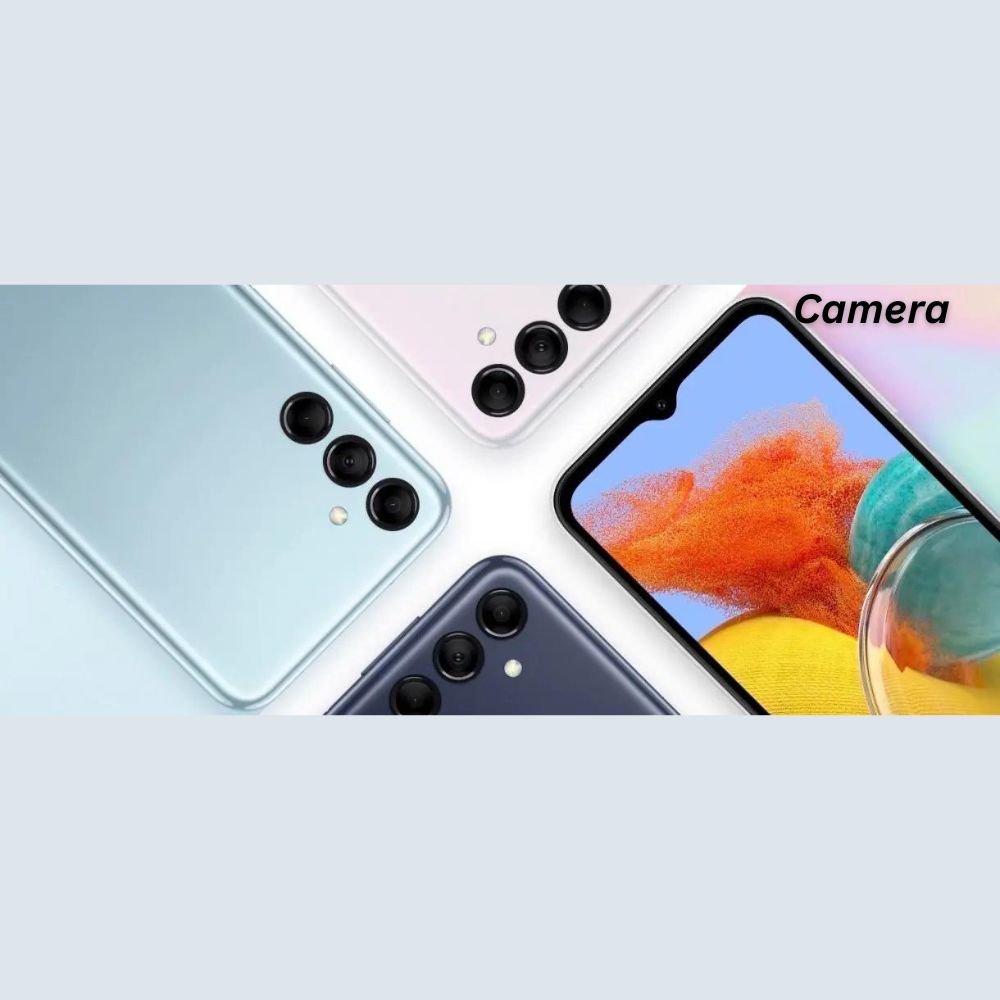 Battery Life and Charging
Equipped with a robust 6000 mAh Li-Po battery, the Samsung Galaxy M14 ensures long-lasting usage without the need for frequent recharging. Whether you're browsing the internet, watching videos, or playing games, you can enjoy extended battery life throughout the day. The device supports 15W wired charging, allowing you to quickly replenish the battery when needed. With the Samsung Galaxy M14, you can say goodbye to battery anxiety and stay connected for longer periods without interruption.
Connectivity and Storage
The Samsung Galaxy M14 offers a range of connectivity options to keep you connected wherever you go. With Wi-Fi 802.11 a/b/g/n/ac, dual-band support, you can enjoy fast and stable internet connectivity. The device also supports Bluetooth 5.2, allowing you to connect wirelessly to other compatible devices. Additionally, the Samsung Galaxy M14 features NFC technology, enabling convenient contactless payments. When it comes to storage, the device offers options of 64 GB or 128 GB of internal storage, ensuring ample space for your apps, photos, videos, and files. If you require additional storage, the microSDHC dedicated slot allows for expandable storage.
Additional Features and Sensors
The Samsung Galaxy M14 is packed with a range of additional features that enhance the overall user experience. The device is equipped with a side-mounted fingerprint sensor, ensuring quick and secure access to your smartphone. Other sensors include an accelerometer, gyro, proximity sensor, and compass. These sensors enable various functionalities, such as automatic screen rotation, accurate positioning, and improved gaming experiences. With the Samsung Galaxy M14, you can enjoy a seamless and intuitive smartphone experience.
Pricing and Availability
The Samsung Galaxy M14 is available in a range of attractive colors, including Navy Blue, Light Blue, and Silver. The device is priced at ₹14,990 for the 128 GB variant with 4 GB of RAM and ₹16,490 for the 128 GB variant with 6 GB of RAM. Please note that prices may vary depending on your location and the retailer. To stay up to date with the latest deals, offers, and comparisons, visit giztop.com for the best prices on the Samsung Galaxy M14 and other smartphones.
Conclusion
In conclusion, the Samsung Galaxy M14 is an impressive smartphone that combines style, performance, and advanced features. With its stunning display, powerful processor, versatile camera system, and long-lasting battery, this device is sure to meet the needs of both casual users and tech enthusiasts. Whether you're browsing the web, capturing memories, or staying connected on the go, the Samsung Galaxy M14 delivers an exceptional smartphone experience. Stay ahead of the curve with this cutting-edge gadget from Samsung.