In the ever-evolving world of smartphones, Motorola has once again made waves with the introduction of their latest flagship device, the Motorola ThinkPhone. Boasting cutting-edge technology and a sleek design, this smartphone is set to revolutionize the way we experience mobile communication. Let's dive into the features and specifications that make the Motorola ThinkPhone a true game-changer.
Design and Display
The Motorola ThinkPhone is crafted with precision, featuring a stunning glass front with Gorilla Glass Victus protection, an aramid fiber back, and an aluminum frame. With dimensions of 158.8 x 74.4 x 8.3 mm and a weight of 188.5 g, this device strikes the perfect balance between elegance and durability.
The smartphone showcases a vibrant 6.6-inch P-OLED display, capable of producing 1 billion colors. With a resolution of 1080 x 2400 pixels and an aspect ratio of 20:9, the ThinkPhone offers a pixel density of approximately 399 ppi. Moreover, the HDR10+ support ensures a visually stunning experience, bringing your content to life with vibrant colors and enhanced contrast.
Powerful Performance
At the heart of the Motorola ThinkPhone lies the Qualcomm SM8475 Snapdragon 8+ Gen 1 processor, a powerhouse that delivers exceptional performance. This octa-core chipset comprises a Cortex-X2 core clocked at 3.19 GHz, three Cortex-A710 cores running at 2.75 GHz, and four Cortex-A510 cores operating at 1.80 GHz. Paired with the Adreno 730 GPU, the ThinkPhone effortlessly handles multitasking, gaming, and demanding applications.
The smartphone offers multiple storage and RAM configurations to suit your needs. Choose between 128GB or 256GB of internal storage, paired with either 8GB or 12GB of RAM. For those who require even more space, a 512GB variant with 12GB of RAM is also available. The ThinkPhone utilizes the high-speed UFS 3.1 storage technology, ensuring smooth performance and quick access to your files.
Capture Every Moment
Equipped with a versatile camera system, the Motorola ThinkPhone allows you to unleash your creativity and capture stunning photos and videos. On the rear, you'll find a triple camera setup consisting of a 50 MP wide lens, a 12 MP ultrawide lens, and a 2 MP depth sensor. The wide-angle lens ensures crisp and detailed shots, while the ultrawide lens expands your field of view, perfect for capturing landscapes or group photos. The depth sensor adds a professional touch to your portraits, creating a pleasing bokeh effect.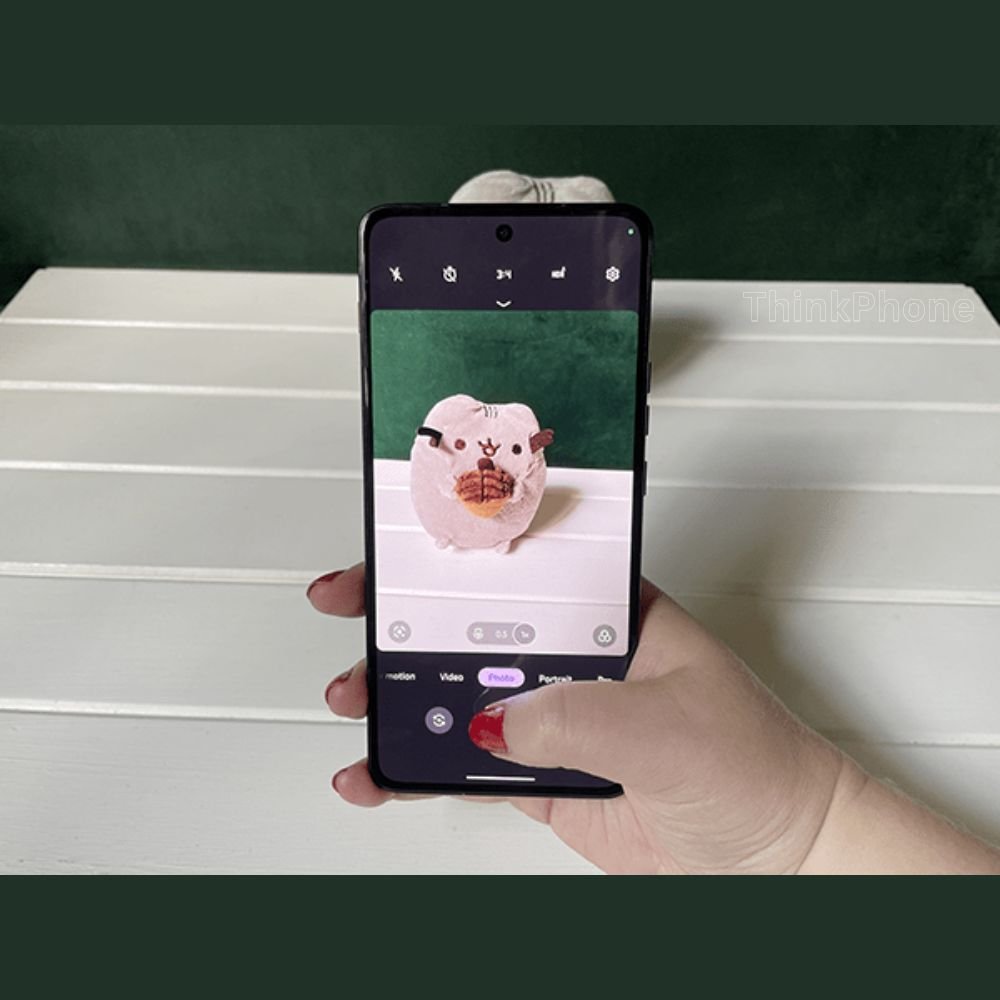 For selfie enthusiasts, the ThinkPhone offers a front-facing dual-camera system. The ROW model features a 32 MP wide lens, while the PRC model boasts a 16 MP wide lens. Both lenses deliver stunning selfies with remarkable detail and clarity. With features like HDR and various shooting modes, you can effortlessly capture your best self.
Seamless Connectivity
Stay connected wherever you go with the Motorola ThinkPhone's advanced connectivity options. The smartphone supports dual SIM functionality, allowing you to use two SIM cards simultaneously. You can also choose between a single SIM variant or a dual SIM variant, depending on your needs.
Connectivity is further enhanced with Wi-Fi 802.11 a/b/g/n/ac/6e support, providing fast and stable internet access. The ThinkPhone also features Bluetooth 5.2, allowing you to effortlessly connect to various wireless devices. Additionally, the inclusion of NFC (Near Field Communication) enables convenient contactless transactions and data exchange.
Battery and Charging
With its 5000 mAh non-removable Li-Po battery, the Motorola ThinkPhone offers all-day power to keep up with your busy lifestyle. Whether you're browsing the web, streaming media, or playing games, you can rely on the ThinkPhone to provide long-lasting battery life. Furthermore, the smartphone supports 68W wired charging, ensuring that you spend less time waiting for your device to charge and more time enjoying its features.
The ThinkPhone also supports wireless charging with a 15W charging capacity. Simply place your device on a compatible wireless charger, and it will recharge effortlessly. No more fumbling with cables or searching for power outlets – the ThinkPhone offers a seamless charging experience.
Advanced Features and Durability
Motorola understands the importance of durability and protection. That's why the ThinkPhone is equipped with IP68 dust and water resistance, allowing it to withstand submersion in up to 1.5 meters of water for 30 minutes. Additionally, the device is drop-to-concrete resistant from up to 1.3 meters, ensuring that accidental drops won't spell disaster for your smartphone.
Furthermore, the ThinkPhone is MIL-STD-810H compliant, meeting military-grade standards for durability and ruggedness. It can withstand extreme temperatures, shock, and vibration, making it the ideal companion for those who lead an adventurous lifestyle.
Software and User Experience
The Motorola ThinkPhone runs on the latest Android 13 operating system, providing a seamless and intuitive user experience. With Android 13, you can enjoy enhanced privacy features, improved app performance, and a range of customization options. Motorola's commitment to providing a near-stock Android experience ensures a clean and clutter-free interface, allowing you to focus on what matters most – your content.
Pricing and Availability
The Motorola ThinkPhone is priced competitively, starting at $675.00 for the base variant with 8GB of RAM and 128GB of storage. The 256GB variant with 8GB of RAM is priced at $675.00, while the 256GB and 512GB variants with 12GB of RAM are priced at $1,250.00. The ThinkPhone is available worldwide and can be purchased through authorized retailers and online platforms.
Conclusion
The Motorola ThinkPhone is a testament to Motorola's commitment to innovation and delivering exceptional user experiences. With its powerful performance, stunning display, versatile camera system, and advanced features, the ThinkPhone sets a new standard for what a smartphone can accomplish. Whether you're a tech enthusiast, a photography enthusiast, or simply someone looking for a reliable and feature-rich device, the Motorola ThinkPhone is sure to impress. Embrace the future of smartphones with the Motorola ThinkPhone – the possibilities are endless.