Overview
The world of smartwatches is rapidly evolving, and one of the latest entrants making waves in the market is the Huawei Watch GT 4. This innovative gadget has been meticulously designed to cater to the modern lifestyle, boasting a plethora of features that make it a standout in the crowded smartwatch landscape. In this article, we delve deep into the features, performance, and customer opinions of this top-tier smartwatch.
Design
The Huawei Watch GT 4 breaks the mold with a design that is both functional and aesthetically pleasing. The smartwatch is built with a robust combination of a glass front, plastic back, and a stainless steel frame. The Huawei smartwatch is not just about looks; it is also designed to withstand tough conditions. With 50 meters of water resistance and a 5 ATM rating, this device is built to endure.
Additionally, it's compatible with standard 22mm straps for the 46mm model, offering versatility in styling. The dimensions of the device stand at a compact 46 x 46 x 10.9 mm, and it weighs a mere 37 grams. This smartwatch is available in a variety of colors, including Black, Steel, Silver, and Gold, catering to a wide range of personal preferences.
Display
The Huawei Watch GT 4 is equipped with a 1.43-inch AMOLED display that delivers a resolution of 466 x 466 pixels. With a PPI density of 326, the screen offers crisp, clear visuals, making it easy to read even in bright conditions.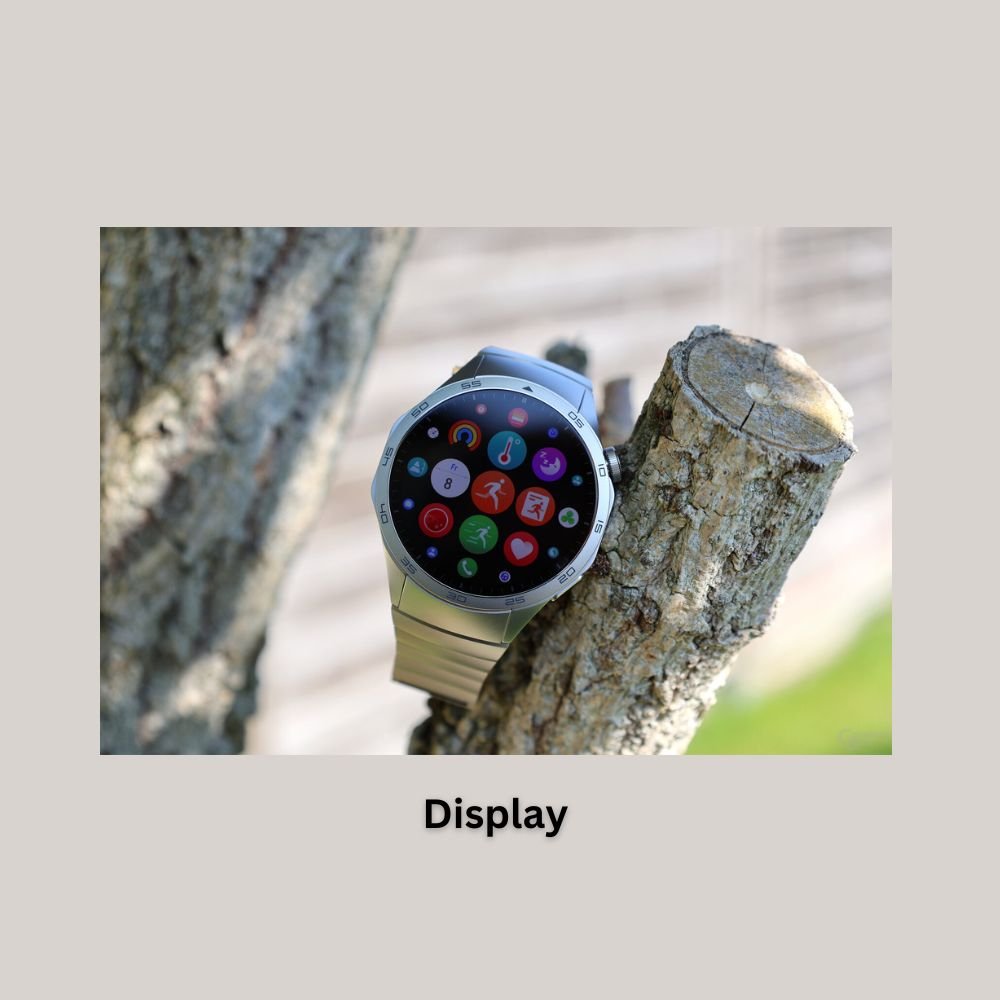 Performance
The Huawei Watch GT 4 runs on HarmonyOS 4.0, offering a smooth and efficient performance. While this smartwatch does not feature a card slot, it makes up for it with its seamless operation and user-friendly interface.
Sensors
A key aspect of any smartwatch is its array of sensors, and the Huawei Watch GT 4 is no exception. It is integrated with a variety of sensors, including an accelerometer, gyro, heart rate monitor, barometer, compass, SpO2, and even a thermometer that measures body temperature. These features make the Huawei Watch GT 4 not just a time-keeping device, but also a comprehensive health and fitness companion.
Connectivity
The Huawei Watch GT 4 offers several connectivity options, including Bluetooth 5.2, ensuring a stable and fast connection with your smartphone. For navigation, the device is equipped with GPS (L1+L5), GLONASS, BDS, GALILEO, QZSS. This makes the Huawei Watch GT 4 an ideal companion for outdoor activities like hiking and trail running.
Battery Life
The Huawei Watch GT 4 is powered by a non-removable Li-Po battery. Though the exact battery life depends on usage, this smartwatch is designed to offer extended battery life, reducing the need for frequent charging. The device also supports wireless charging, providing a convenient and hassle-free charging experience.
Pricing
The Huawei Watch GT 4 is priced at approximately 270 EUR, placing it in the mid to high range of the smartwatch market. Considering its extensive list of features and robust performance, the price tag seems justified.
Customer Opinions
The Huawei Watch GT 4 has garnered mixed reviews from users. Some users have applauded its design, performance, and array of features. However, others have expressed disappointment with aspects such as the lack of a memory card slot and the absence of certain connectivity features.
Conclusion
The Huawei Watch GT 4 is a solid contender in the smartwatch arena. With its sleek design, powerful performance, and impressive array of features, it offers excellent value for its price. Whether you're a fitness enthusiast looking for a new workout companion or a tech-savvy individual seeking the latest in wearable technology, the Huawei Watch GT 4 is a smartwatch worth considering.