Are you ready for the next big thing in the smartphone world? Introducing the Tecno Spark 10 Pro, a revolutionary device that combines cutting-edge technology with stylish design. Packed with powerful features and an impressive camera setup, this smartphone is set to redefine your mobile experience. In this article, we will delve deep into the specifications, features, and performance of the Tecno Spark 10 Pro, bringing you all the latest gadget news you need to know.
Unveiling the Tecno Spark 10 Pro
The Tecno Spark 10 Pro made its official debut on March 6, 2023, captivating tech enthusiasts with its impressive lineup of specifications. This smartphone is powered by the Mediatek Helio G88 Octa-core processor, ensuring smooth and efficient performance for all your daily tasks. Combined with the Mali-G52 MC2 GPU, the Tecno Spark 10 Pro delivers stunning visuals and seamless gaming experiences.
Embrace the Power of Android 13 and HIOS 12.6
Running on the latest Android 13 operating system, the Tecno Spark 10 Pro brings you all the benefits of the most advanced mobile software. With its intuitive interface and enhanced security features, Android 13 ensures a seamless and secure user experience. Additionally, the HIOS 12.6 overlay adds a layer of customization and optimization, allowing you to personalize your smartphone to suit your preferences.
Immersive Display and Design
Featuring a 6.8-inch IPS LCD capacitive touchscreen, the Tecno Spark 10 Pro offers a truly immersive viewing experience. With a resolution of 1080 x 2460 pixels, every detail comes to life on this vibrant display. The slim bezels and high screen-to-body ratio of approximately 85.1% provide an uninterrupted visual experience, making it perfect for browsing, gaming, and multimedia consumption.
The Tecno Spark 10 Pro boasts a sleek and stylish design. Its glass front, plastic frame, and glass back blend seamlessly to create an elegant and premium look. With dimensions of 168.4 x 76.2 x 8.4 mm and a weight of 208 grams, this smartphone is comfortable to hold and easy to carry.
Capture Memories with the Impressive Camera Setup
One of the highlights of the Tecno Spark 10 Pro is its camera setup. On the rear, you'll find a powerful 50 MP wide lens, which captures stunning details and vibrant colors in every shot. Additionally, there are other unspecified camera lenses that work together to enhance your photography experience. With the Dual-LED flash, you can capture well-lit photos even in low-light conditions. The camera supports features like HDR and panorama, enabling you to unleash your creativity and capture breathtaking images.
For selfie enthusiasts, the Tecno Spark 10 Pro offers a 32 MP wide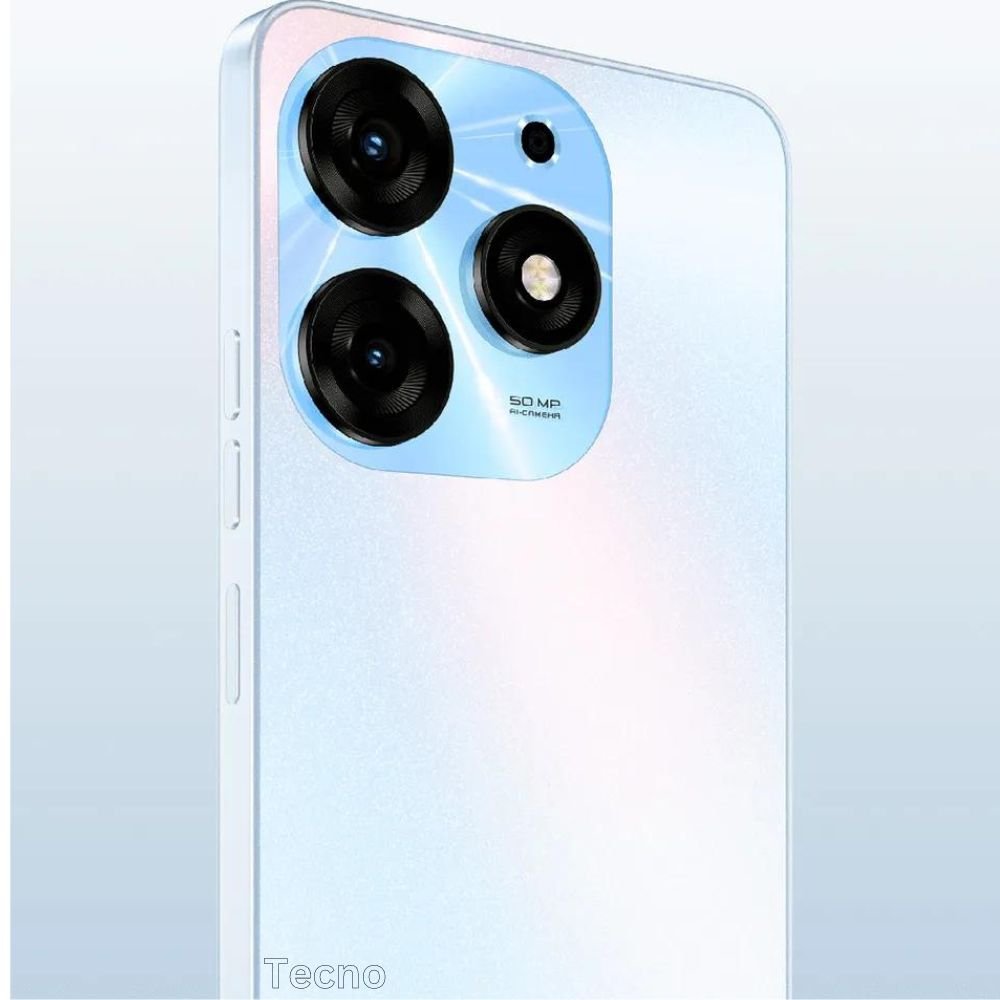 front camera. Equipped with an LED flash, this camera ensures that your selfies are perfectly lit, even in dimly lit environments. Whether you're taking group photos or solo shots, the Tecno Spark 10 Pro's front camera is sure to impress.
Power-Packed Performance and Storage
The Tecno Spark 10 Pro is equipped with 8 GB of RAM, ensuring smooth multitasking and effortless performance. Whether you're switching between apps, playing graphics-intensive games, or running resource-heavy applications, this smartphone can handle it all without any lag. With 128 GB or 256 GB of internal storage, you have ample space to store all your photos, videos, apps, and files. Never worry about running out of storage again.
Long-Lasting Battery Life
A powerful smartphone needs a reliable battery, and the Tecno Spark 10 Pro delivers just that. With its non-removable Li-Ion 5000 mAh battery, you can enjoy hours of uninterrupted usage. Whether you're browsing the web, streaming videos, or playing games, the Tecno Spark 10 Pro has the power to keep up with your demands. And with 18W wired charging support, you can quickly recharge your phone and get back to what you love.
Connectivity and Additional Features
The Tecno Spark 10 Pro comes with a host of connectivity options to keep you connected wherever you go. It supports Wi-Fi 802.11 b/g/n, allowing you to connect to wireless networks and enjoy fast internet speeds. Bluetooth 5.3 enables seamless pairing with other devices, such as headphones and speakers, for a wireless audio experience. With GPS and NFC capabilities, you can navigate your way around and make secure payments with ease.
Other notable features of the Tecno Spark 10 Pro include an FM radio, USB Type-C 2.0 port for fast data transfer, and a side-mounted fingerprint sensor for quick and secure unlocking. The smartphone also includes sensors like an accelerometer, proximity sensor, and compass, enhancing your overall user experience.
Choose Your Style
Express your personal style with the Tecno Spark 10 Pro. This smartphone is available in two stunning colors: Starry Black and Pearl White. Whether you prefer a sleek and sophisticated look or a vibrant and eye-catching design, the Tecno Spark 10 Pro has the perfect color option to suit your taste.
Pricing and Availability
The Tecno Spark 10 Pro offers incredible value for money. With its impressive features and performance, this smartphone is priced at €199.92 / ₹12,499. It's an affordable option for those looking to upgrade their mobile experience without breaking the bank. The Tecno Spark 10 Pro is currently available for purchase, so don't miss out on this opportunity to own a device that combines style, performance, and affordability.
Conclusion
The Tecno Spark 10 Pro is a game-changer in the smartphone industry. With its powerful processor, impressive camera setup, immersive display, and long-lasting battery life, it offers everything you need for a top-notch mobile experience. Whether you're a photography enthusiast, a gaming aficionado, or someone who simply wants a reliable and stylish smartphone, the Tecno Spark 10 Pro has got you covered. Upgrade to the Tecno Spark 10 Pro today and discover a whole new world of possibilities.