Smartphone technology continues to evolve at a rapid pace, and Samsung has once again pushed the boundaries with its latest flagship device, the Samsung Galaxy S23+. Packed with innovative features and cutting-edge technology, the Galaxy S23+ is set to redefine what a smartphone can do. In this article, we will delve into the details of this remarkable device, exploring its design, display, performance, camera capabilities, and more. So, let's dive in and discover the future of smartphones.
Design and Build Quality
When it comes to design, the Samsung Galaxy S23+ is a true standout. With its sleek and modern aesthetics, the device exudes elegance and sophistication. The phone features a glass front and back, protected by the robust Gorilla Glass Victus 2, which ensures durability and resistance against scratches and drops. The aluminum frame adds to the overall sturdiness of the device.
The Galaxy S23+ is available in a range of stunning colors, including Phantom Black, Cream, Green, Lavender, Graphite, and Lime, allowing users to choose a color that suits their personality and style. The device also boasts an IP68 rating, making it dust and water-resistant up to 1.5 meters for 30 minutes. This ensures peace of mind, even in challenging environments.
Display: A Visual Delight
One of the standout features of the Samsung Galaxy S23+ is its display. The device sports a 6.6-inch Dynamic AMOLED 2X display with a 120Hz refresh rate. This ensures smooth and fluid scrolling, making every interaction with the device a delight. The display also supports HDR10+ and offers a peak brightness of 1750 nits, allowing for vibrant and immersive viewing experiences.
With a resolution of 1080 x 2340 pixels and a pixel density of 393 pixels per inch, the Galaxy S23+ delivers crisp and sharp visuals. The display is also equipped with Corning Gorilla Glass Victus 2, providing added protection against scratches and accidental drops. Additionally, the always-on display feature allows users to glance at important information without having to unlock their device.
Performance: Powerhouse Under the Hood
Under the hood, the Samsung Galaxy S23+ is powered by the Qualcomm SM8550-AC Snapdragon 8 Gen 2 (4 nm) chipset, ensuring a seamless and powerful performance. The octa-core CPU, comprising a combination of Cortex-X3, Cortex-A715, Cortex-A710, and Cortex-A510 cores, delivers exceptional speed and efficiency.
The device is equipped with Adreno 740 GPU, which enhances gaming and graphics-intensive tasks. Whether you're playing the latest mobile games or multitasking between apps, the Galaxy S23+ can handle it all with ease. The device is available in two memory configurations: 256GB with 8GB of RAM and 512GB with 8GB of RAM, giving users ample storage space for all their files, photos, and videos.
Camera: Capture Moments in Stunning Detail
The camera capabilities of the Samsung Galaxy S23+ are nothing short of impressive. The device features a triple camera setup on the rear, consisting of a 50 MP wide lens, a 10 MP telephoto lens with 3x optical zoom, and a 12 MP ultra-wide lens. This versatile camera system allows users to capture stunning photos in various scenarios, from breathtaking landscapes to detailed close-ups.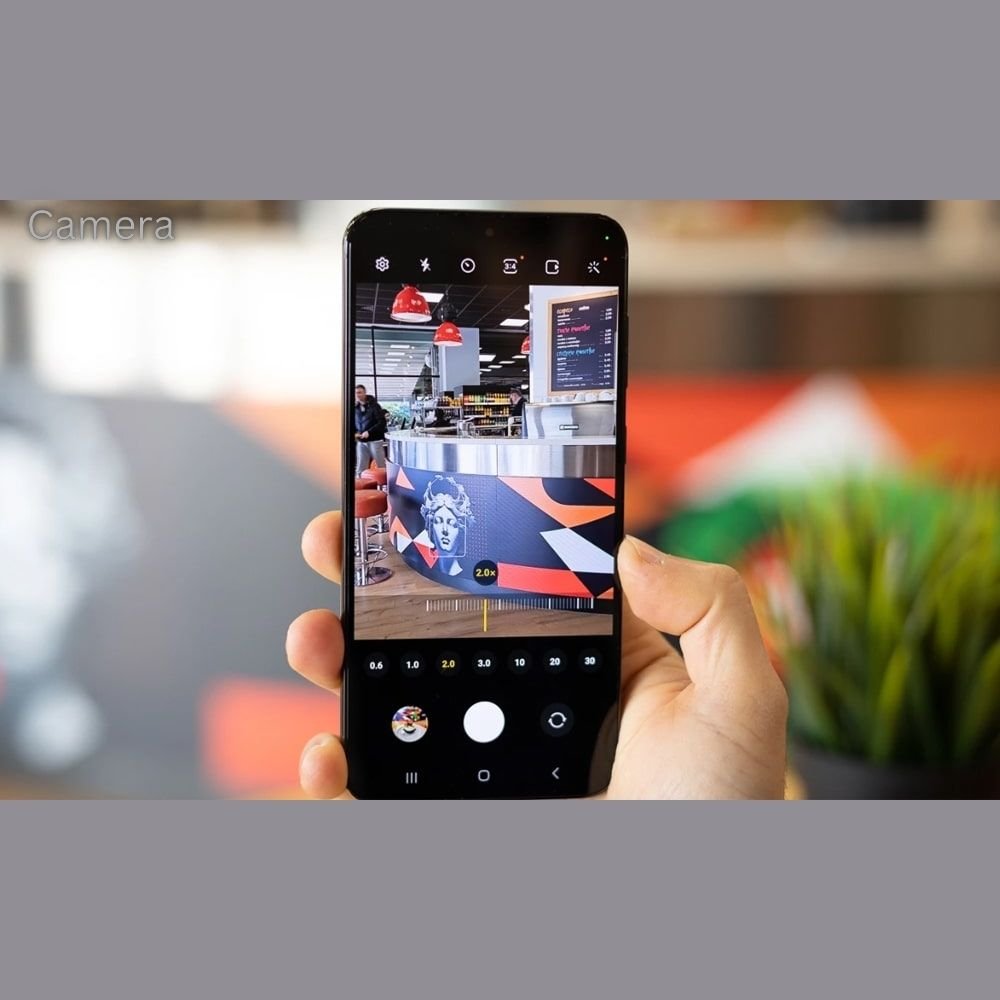 The camera setup is further enhanced with features such as Dual Pixel PDAF, OIS (Optical Image Stabilization), and Super Steady video, ensuring sharp and stable images and videos even in challenging conditions. The Galaxy S23+ also supports 8K video recording, allowing users to capture videos with incredible detail and clarity.
On the front, the device sports a 12 MP selfie camera with Dual Pixel PDAF, enabling users to capture stunning self-portraits. The camera also supports 4K video recording, ensuring high-quality video calls and vlogs.
Battery Life and Charging: Power That Lasts
To keep up with the demands of modern smartphone usage, the Samsung Galaxy S23+ is equipped with a 4700 mAh non-removable battery. This powerful battery ensures that you can go through your day without worrying about running out of power. Whether you're streaming videos, playing games, or browsing the web, the Galaxy S23+ has got you covered.
The device supports 45W wired charging, which can charge the battery up to 65% in just 30 minutes, ensuring that you spend less time waiting for your device to charge. It also supports 15W wireless charging, allowing for convenient and cable-free charging. Additionally, the Galaxy S23+ features reverse wireless charging, which means you can use your device to charge other compatible devices wirelessly.
Software and User Experience: Android 13 with One UI 5.1
The Samsung Galaxy S23+ runs on the latest version of Android, Android 13, out of the box. This ensures that users have access to the latest features, security updates, and optimizations. The device also features Samsung's custom user interface, One UI 5.1, which provides a clean and intuitive user experience.
One UI 5.1 brings a host of features and enhancements, including improved privacy settings, enhanced multitasking capabilities, and a refined user interface. The interface is designed to be user-friendly, with features such as Bixby natural language commands and dictation, Samsung Pay for secure mobile payments, and Ultra Wideband (UWB) support for seamless connectivity with other UWB-enabled devices.
Connectivity and Biometrics: Stay Connected and Secure
The Samsung Galaxy S23+ offers a wide range of connectivity options to ensure that you stay connected wherever you go. The device supports Wi-Fi 802.11 a/b/g/n/ac/6e, allowing for fast and stable internet connections. It also features Bluetooth 5.3 for seamless wireless communication with other devices.
In terms of biometrics, the Galaxy S23+ offers an under-display ultrasonic fingerprint sensor for secure and convenient unlocking of the device. The sensor uses ultrasonic waves to scan your fingerprint, providing enhanced security compared to traditional optical fingerprint sensors. The device also features other sensors such as an accelerometer, gyro, proximity sensor, compass, and barometer.
Additional Features: Samsung DeX and More
The Samsung Galaxy S23+ comes with a range of additional features that further enhance the user experience. One of these features is Samsung DeX, which allows users to connect their device to a monitor or TV and use it as a desktop computer. This feature provides a desktop-like experience, allowing for multitasking and productivity on a larger screen.
The device also supports Samsung Wireless DeX, which eliminates the need for cables, making it even more convenient to use. With Samsung Wireless DeX, users can wirelessly connect their device to a compatible TV or monitor and enjoy a seamless desktop experience.
Pricing and Availability
The Samsung Galaxy S23+ is priced at $749.00 / C$ 985.00 / £ 899.00 / € 1,044.00 / ₹ 94,999. The device is available for purchase starting from February 17th, 2023. It is important to note that prices may vary depending on the region and the chosen configuration of the device.
Conclusion: The Future is Here
In conclusion, the Samsung Galaxy S23+ is a true testament to Samsung's commitment to innovation and excellence. With its stunning design, immersive display, powerful performance, impressive camera capabilities, and a host of additional features, the Galaxy S23+ sets a new standard for smartphones.
Whether you're a tech enthusiast, a professional photographer, or someone who simply appreciates the latest gadgets, the Samsung Galaxy S23+ is sure to impress. It combines style, functionality, and cutting-edge technology to deliver an unparalleled smartphone experience. Get ready to embark on a new era of mobile technology with the Samsung Galaxy S23+.