The smartphone market is constantly evolving, with new gadgets being released regularly. One of the latest additions to this ever-growing market is the Samsung Galaxy A34. This device comes with impressive features and specifications that make it a strong contender in the smartphone arena. In this article, we will explore the key aspects of the Samsung Galaxy A34, including its network technology, design and build, display, performance, camera capabilities, battery life, and pricing. So, let's dive in and discover what this gadget has to offer.
Network Technology
The Samsung Galaxy A34 supports various network technologies, ensuring seamless connectivity for its users. It is compatible with GSM, HSPA, LTE, and 5G networks. This means that users can enjoy fast internet speeds and stable connectivity, even in areas with limited network coverage.
The device supports multiple bands across different network technologies. For 2G, it supports GSM 850, 900, 1800, and 1900 bands. 3G bands include HSDPA 850, 900, 1700(AWS), 1900, and 2100. In terms of 4G, it supports bands 1, 2, 3, 4, 5, 7, 8, 12, 17, 20, 26, 28, 32, 38, 40, 41, and 66. For 5G, the supported bands are 1, 3, 7, 8, 20, 28, 38, 40, 41, 77, and 78. With such wide network compatibility, users can experience uninterrupted connectivity and enjoy the benefits of the latest network technologies.
Design and Build
The Samsung Galaxy A34 boasts a sleek and stylish design that is sure to catch the eye of smartphone enthusiasts. Its dimensions measure 161.3 x 78.1 x 8.2 mm (6.35 x 3.07 x 0.32 in), making it comfortable to hold and use. The device weighs 199 g (7.02 oz), which adds to its portability and ease of use.
The device features a glass front with Gorilla Glass 5 protection, ensuring durability and resistance to scratches. The frame and back are made of plastic, which not only adds to the device's sleek appearance but also helps reduce its weight. Additionally, the Samsung Galaxy A34 is IP67 dust and water-resistant, allowing users to use it confidently in various environments.
Display
The Samsung Galaxy A34 sports a captivating display that enhances the overall user experience. It features a 6.6-inch Super AMOLED display with a 120Hz refresh rate. This high refresh rate provides smoother animations and scrolling, making interactions with the device feel more fluid and responsive.
The display offers a resolution of 1080 x 2340 pixels, resulting in a pixel density of approximately 390 pixels per inch. This ensures sharp and vibrant visuals, bringing content to life with vivid colors and crisp details. Furthermore, the display is capable of reaching a peak brightness of 1000 nits, making it easily readable even under direct sunlight.
Performance
Under the hood, the Samsung Galaxy A34 is powered by the Mediatek MT6877V Dimensity 1080 chipset. This octa-core processor consists of two high-performance Cortex-A78 cores clocked at 2.6 GHz and six power-efficient Cortex-A55 cores clocked at 2.0 GHz. This combination of cores ensures smooth multitasking and efficient performance, allowing users to seamlessly switch between apps and handle resource-intensive tasks with ease.
The device is equipped with the Mali-G68 MC4 GPU, which delivers impressive graphics performance. Whether it's gaming, video streaming, or graphic-intensive applications, users can expect smooth and immersive visuals. The Samsung Galaxy A34 is available in different memory configurations, including 128GB of internal storage with either 6GB or 8GB of RAM, as well as a 256GB variant with 8GB of RAM. This ample storage capacity ensures that users have enough space to store their files, apps, and media.
The Samsung Galaxy A34 runs on Android 13, with Samsung's One UI 5.1 overlay. This software combination provides a user-friendly interface with a host of customization options and features. Users can personalize their device to suit their preferences and enjoy a seamless and intuitive user experience.
Camera Capabilities
The Samsung Galaxy A34 features a versatile camera setup that allows users to capture stunning photos and videos. The main camera is a triple-lens system, with a 48 MP wide lens, an 8 MP ultrawide lens with a 123-degree field of view, and a 5 MP macro lens. This combination enables users to capture a wide range of scenes, from breathtaking landscapes to detailed close-up shots.
The camera setup is equipped with features like LED flash, panorama mode, and HDR, enhancing the quality of the captured images. Users can also record videos in 4K resolution at 30 frames per second, or choose lower resolutions for smoother playback or reduced file sizes.
On the front, the Samsung Galaxy A34 houses a 13 MP selfie camera. This camera is capable of capturing high-resolution selfies and recording videos in 4K resolution. With features like beauty mode and various filters, users can enhance their selfies and share them with friends and family on social media platforms.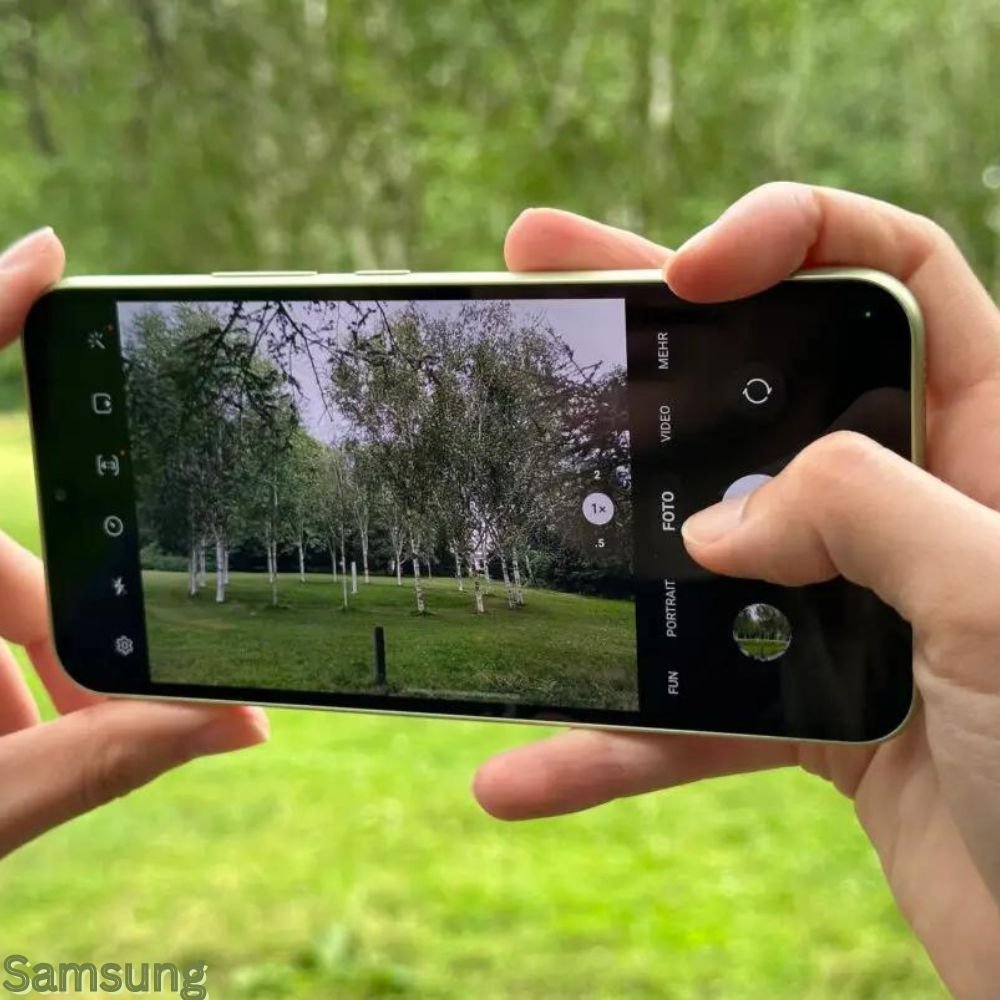 Battery Life
To keep users connected throughout the day, the Samsung Galaxy A34 is equipped with a powerful 5000 mAh non-removable battery. This large capacity ensures extended usage without the need to constantly recharge the device. Whether it's browsing the web, streaming media, or playing games, users can enjoy their favorite activities without worrying about running out of battery.
The device supports 25W wired charging, allowing for faster charging times. This means users can quickly replenish the battery and get back to using their device without significant downtime. The Samsung Galaxy A34 also features power-saving modes and optimizations, further extending the battery life and ensuring longevity.
Pricing
The Samsung Galaxy A34 offers great value for its features and specifications. The pricing varies depending on the region and the selected memory configuration. The 128GB variant with 6GB of RAM is priced at around $237.50, while the 256GB variant with 8GB of RAM is priced at approximately $319.00. These prices may vary slightly based on promotions and discounts offered by retailers.
Conclusion
The Samsung Galaxy A34 is a feature-packed smartphone that offers a delightful user experience. With its impressive network compatibility, sleek design, vibrant display, powerful performance, versatile camera capabilities, and long-lasting battery life, it is a device that caters to a wide range of user needs. Whether you're a photography enthusiast, a gaming enthusiast, or someone who simply needs a reliable and capable smartphone, the Samsung Galaxy A34 is definitely worth considering.
So, if you're in the market for a new smartphone, be sure to check out the Samsung Galaxy A34. Its combination of style, performance, and value make it a strong contender in the ever-growing smartphone market. Upgrade to the Samsung Galaxy A34 and experience the latest in smartphone technology.