The world of smartphones is constantly evolving, with new models hitting the market every year. One of the latest additions to the smartphone market is the Nokia C300. This device has generated a lot of buzz and excitement among gadget enthusiasts. In this article, we will explore the features, design, performance, and more of the Nokia C300, and delve into what sets it apart from other smartphones.
Design: A Perfect Blend of Elegance and Durability
When it comes to design, the Nokia C300 truly shines. With its sleek and slim profile, measuring just 8.6mm in thickness, it is a device that is both comfortable to hold and visually appealing. The smartphone features a glass front, a plastic back, and a plastic frame, giving it a modern and sophisticated look. Available in a stunning blue color, the Nokia C300 is sure to turn heads wherever you go.
What sets the Nokia C300 apart from other smartphones in its price range is its splash and dust resistance. This feature ensures that your device stays protected even in harsh environments, allowing you to use it worry-free in various situations, whether you're caught in the rain or working in a dusty environment.
Display: Immersive Visual Experience
The Nokia C300 boasts a 6.52-inch IPS LCD capacitive touchscreen display. With a resolution of 720 x 1600 pixels and a screen-to-body ratio of approximately 80.4%, you can expect vibrant colors and sharp details in your videos, photos, and apps. The display also offers a peak brightness of 400 nits, ensuring that your content remains visible even in bright sunlight.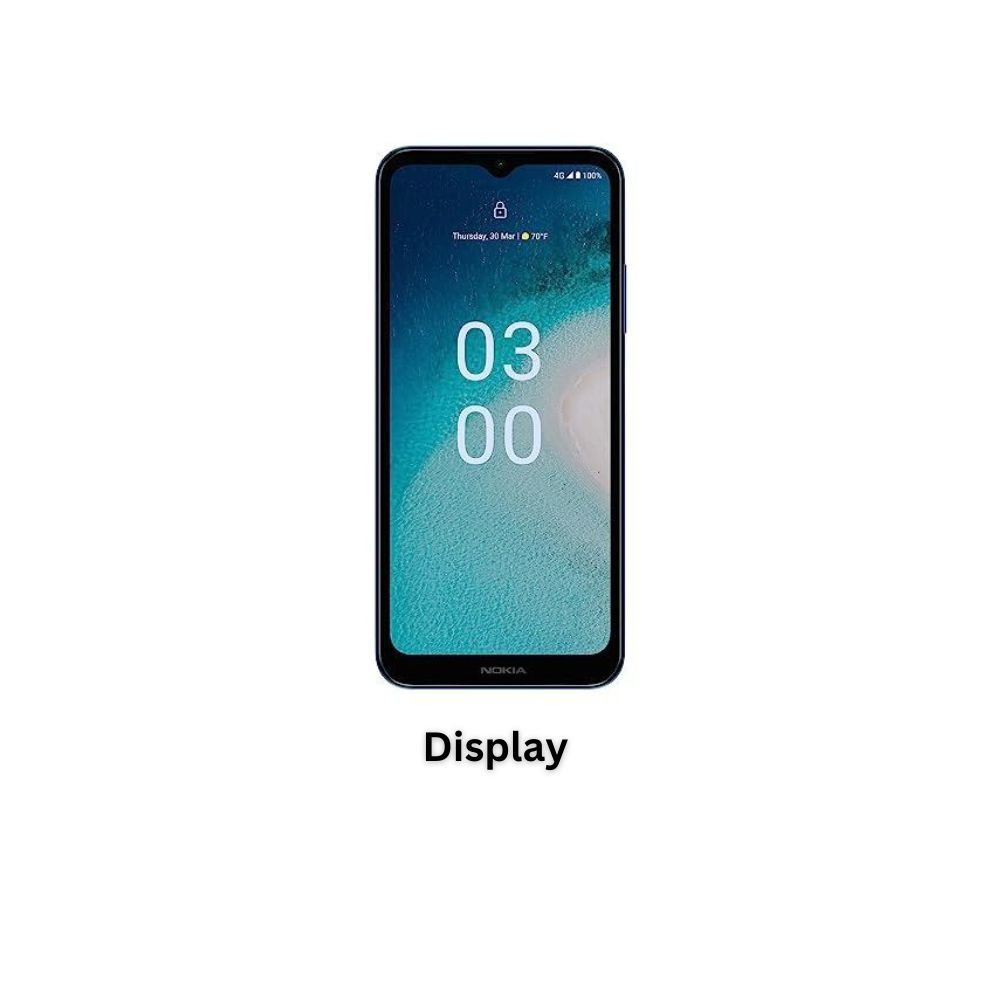 Performance: Power Meets Efficiency
Under the hood, the Nokia C300 is powered by the Qualcomm SM6115 Snapdragon 662 octa-core processor. This processor, built on an 11nm architecture, delivers a perfect balance between power and efficiency. You can smoothly navigate through apps, multitask effortlessly, and enjoy lag-free performance, whether you're streaming videos, playing games, or browsing the web.
Accompanying the powerful processor is the Adreno 610 GPU, which enhances your gaming experience by delivering stunning graphics and smooth gameplay. So, whether you're a casual gamer or a hardcore enthusiast, the Nokia C300 has got you covered.
Camera: Capture Every Moment
The Nokia C300 features a dual-camera setup on the rear, consisting of a 13 MP wide lens, a 2 MP macro lens, and a 2 MP depth sensor. This versatile camera setup allows you to capture stunning photos with great depth and detail, whether you're shooting landscapes, portraits, or close-up shots.
Thanks to features like LED flash, HDR, portrait mode, and night mode, your photos will always turn out vibrant and well-lit, regardless of the lighting conditions. The Nokia C300 also supports video recording at 1080p, ensuring that your videos are crisp and clear.
On the front of the device, you'll find an 8 MP selfie camera that lets you capture stunning self-portraits and video calls with your loved ones. With features like beauty mode and various filters, you can always put your best face forward.
Storage and Memory: Space for Everything You Love
The Nokia C300 comes with 32 GB of internal storage, providing ample space for all your apps, photos, videos, and files. If you need more storage, the device also has a dedicated microSDXC card slot, allowing you to expand the storage capacity up to your desired limit.
To ensure smooth performance and seamless multitasking, the Nokia C300 is equipped with 3 GB of RAM. This ensures that you can switch between apps effortlessly, keeping up with your fast-paced lifestyle.
Battery: Power That Lasts
A smartphone is only as good as its battery life, and the Nokia C300 doesn't disappoint in this regard. It is packed with a non-removable Li-Po 4000 mAh battery that provides enough power to keep you going throughout the day. Whether you're browsing the web, streaming videos, or playing games, you can count on the Nokia C300 to keep up with your demanding tasks.
The device also supports 10W wired charging, ensuring that you spend less time waiting for your battery to recharge and more time enjoying your smartphone experience.
Connectivity: Stay Connected Anywhere
The Nokia C300 offers a wide range of connectivity options to keep you connected wherever you go. It supports Wi-Fi 802.11 b/g/n/ac, allowing you to connect to both 2.4GHz and 5GHz networks for fast and stable internet access. With Bluetooth 5.0, you can easily connect your wireless headphones, speakers, and other compatible devices.
The device also features GPS for accurate navigation, ensuring that you never lose your way. While it doesn't support NFC, it compensates with the inclusion of a USB Type-C 2.0 port, making data transfer and charging hassle-free.
Software: Android 12 for a Seamless Experience
The Nokia C300 runs on the latest Android 12 operating system, providing you with an intuitive and user-friendly interface. Android 12 brings a host of new features and improvements, including enhanced privacy settings, improved notifications, and a more personalized user experience.
With the Nokia C300, you can enjoy all the benefits of the Android ecosystem, including access to the Google Play Store, where you can download a wide range of apps, games, and utilities to customize your smartphone experience.
Additional Features: Security and Sensors
In terms of security, the Nokia C300 incorporates a side-mounted fingerprint sensor. This allows for quick and secure unlocking of your device, ensuring that your personal data remains protected.
The device also features a range of sensors, including an accelerometer, proximity sensor, and barometer. These sensors enhance the overall usability of the device, allowing for intuitive gestures, automatic screen rotation, and more.
Pricing and Availability
The Nokia C300 is competitively priced, offering excellent value for money. With its impressive features and sleek design, it is a smartphone that punches above its weight. The device is currently available for purchase, and you can find the best deals from various online retailers.
Conclusion
The Nokia C300 is a smartphone that combines elegant design, powerful performance, and a range of features to provide users with a truly exceptional smartphone experience. Whether you're a tech enthusiast, a casual user, or a business professional, the Nokia C300 has something to offer everyone. With its immersive display, versatile camera setup, long-lasting battery, and seamless software experience, it sets a new standard for smartphones in its price range. So, if you're in the market for a new smartphone, the Nokia C300 is definitely worth considering.