The world of smartphones is continuously evolving, with new models hitting the market every year. For gadget enthusiasts and tech-savvy individuals, finding the perfect smartphone that combines cutting-edge technology, sleek design, and affordability can be a challenge. But fear not, as Motorola has once again stepped up to the plate with its latest offering, the Motorola Moto G73. In this article, we will delve into the features, specifications, and overall performance of this remarkable device that has been making waves in the smartphone industry.
Unveiling the Motorola Moto G73
Motorola officially announced the Moto G73 on January 24, 2023. The device quickly became available for purchase, captivating users with its impressive features and attractive price point. With its sleek design and powerful hardware, the Moto G73 has emerged as a top contender in the highly competitive smartphone market.
Design and Display
The Motorola Moto G73 boasts a sleek and modern design that is sure to turn heads. With dimensions of 161.4 x 73.8 x 8.3 mm and a weight of 181 g, this smartphone fits comfortably in the hand. The device features a glass front, a plastic back, and a plastic frame, ensuring a durable and lightweight build.
The Moto G73 sports a stunning 6.5-inch IPS LCD display with a 120Hz refresh rate. This high refresh rate provides a smooth and fluid user experience, making scrolling, gaming, and watching videos a delight. With a resolution of 1080 x 2400 pixels and an aspect ratio of 20:9, the Moto G73 delivers vibrant colors and sharp visuals, with a pixel density of approximately 405 ppi.
Performance and Software
Under the hood, the Motorola Moto G73 impresses with its powerful hardware and smooth performance. It runs on the latest Android 13 operating system, offering a user-friendly interface and access to a vast array of apps through the Google Play Store.
Powering the Moto G73 is the Mediatek Dimensity 930 chipset, built on a 6nm process. This octa-core processor consists of 2×2.2 GHz Cortex-A78 cores and 6×2.0 GHz Cortex-A55 cores, delivering impressive speed and efficiency. The device also features the IMG BXM-8-256 GPU, ensuring smooth graphics and an enhanced gaming experience.
With 8GB of RAM, the Moto G73 offers seamless multitasking capabilities, allowing users to switch between apps without any lag or slowdowns. The device is available in two storage options: 128GB and 256GB. Additionally, it supports microSDXC cards, providing expandable storage to accommodate all your files, photos, and videos.
Camera Capabilities
In the era of social media and capturing life's precious moments, a great camera is a must-have feature for any smartphone. The Motorola Moto G73 does not disappoint in this aspect. It boasts a dual-camera setup on the rear, consisting of a 50 MP wide lens and an 8 MP ultra-wide lens.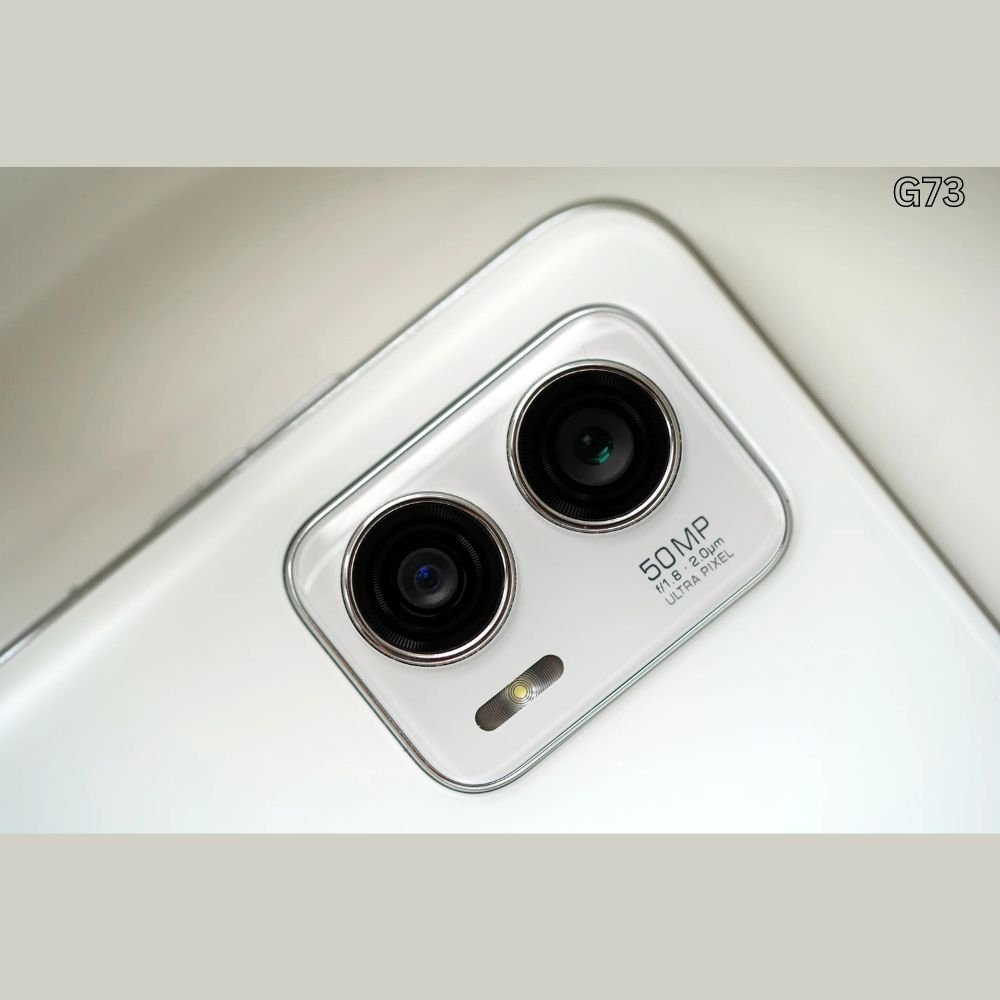 The 50 MP wide lens with an aperture of f/1.8 captures stunning detail and clarity in every shot. Whether you're capturing landscapes or close-up shots, the Moto G73 delivers impressive image quality. The 8 MP ultra-wide lens with a 118˚ field of view allows you to capture more in a single frame, perfect for group photos and scenic shots.
On the front, the Moto G73 features a 16 MP selfie camera with an f/2.4 aperture. This front-facing camera ensures crisp and vibrant selfies, whether you're capturing a solo shot or a group photo.
Connectivity and Battery Life
The Motorola Moto G73 offers a range of connectivity options to keep you connected wherever you go. It supports Wi-Fi 802.11 a/b/g/n/ac, allowing for fast and reliable internet access. Bluetooth 5.3 enables seamless wireless connections with other devices, such as headphones and speakers.
With a 5000 mAh non-removable Li-Po battery, the Moto G73 provides ample power to keep you going throughout the day. Additionally, the device supports 30W wired charging, ensuring quick and convenient charging whenever needed.
Pricing and Availability
The Motorola Moto G73 offers an incredible combination of features and affordability. Priced at $324.99 in the US, £266.99 in the UK, and €269.99 in Europe, the Moto G73 presents an excellent value for money proposition. Please note that prices may vary depending on the region and retailer.
Conclusion
In conclusion, the Motorola Moto G73 is a fantastic smartphone that ticks all the boxes for gadget enthusiasts and tech-savvy individuals. With its sleek design, stunning display, powerful performance, impressive camera capabilities, and long-lasting battery life, the Moto G73 offers a complete package at an affordable price point. Whether you're a photography enthusiast, a gamer, or simply someone who values a reliable and feature-packed smartphone, the Moto G73 is sure to impress. Stay ahead of the curve and experience the best that technology has to offer with the Motorola Moto G73.